Regular price
Sale price
$19.95
Unit price
per
Sale
Sold out
Read Description

MASTER SERIES – ICE FALCON THROWING CARDS BY RICK SMITH JR. AND DE'VO

AS SEEN ON DUDE PERFECT the Falcon Playing Card Series is the HOTTEST playing card deck in the game!  The brand new ICE version is NOW AVAILABLE! – This deck was designed for everything from poker, magic, card collecting, XCM and card throwing! A special stock was created specifically for Falcons by the United States Playing Card Company, makers of Bicycle ® Playing Cards.  This stock despite feeling like a normal playing card, is a hair thicker allowing this deck to be more durable, last longer, and hit harder than a standard deck of playing cards.  This AMAZING collaboration between TWO Guinness World Record holders – magician Rick Smith Jr. and playing card legend De'vo is a MUST for all card lovers!  This deck has 2 box options, Standard & FOIL.

NEW USPC CARD THICK CUT created by the USPC specifically for Falcon Throwing Cards– We wanted this deck to be able to be used for more than just throwing, so we had a special "Thick" cut done from a Premium PAPER stock.  This allows the deck to handle and feel like a normal deck, but have a little more power when thrown.  The Falcon Throwing cards deck is only a few cards thicker than a normal deck when set next to each other.  Because of slight extra thickness, there are 54 cards in each box.  52 standard cards plus 2 Jokers.

CARD THROWING 3 STAR Depth Measuring Markers – All face cards have 3 stars printed  below the numbers so you can see how deep your cards go into different objects. The backs also have dots and arrows that help you see/measure how far your card goes into objects.

BUILT IN CARD REVEAL FOR MAGICIANS – The Joker contains a built in card reveal that can be used with many different magic tricks. The simplest being a spectator chooses a card, the joker is shown and placed into the deck until the claws are out of sight.  The Joker is removed by the spectator and the Falcon is seen to be holding the spectators card. This is a sure fire audience pleaser that is very simple to do!

AMAZING HIGH CONTRAST WING DESIGN BUILT FOR THROWING/FANNING – The unique back design has De'vo's signature twin tip mirror back concept, meaning that you will get different fans depending on which way you fan them.  The back design is also optimized for card throwing, allowing you to be able to see the card better at greater distances.

THANK YOU SO MUCH FOR SUPPORTING THIS CRAZY PROJECT!  We can't wait to get these printed and to you as soon as possible!

**IMPORTANT COVID 19 SHIPPING INFORMATION! – Some countries have suspended mail service or have delays.  Please check with your country to see if there are shipping delays/suspensions before purchasing.
View full details
WHAT YOU CAN DO WITH ICE FLACONS
THROWING CARDS - STANDARD EDITION
Are you a card thrower?
Look No Further!
Rick discusses techniques he uses to throw cards, power, accuracy, how to use this in an act, how you can use this to draw a crowd quickly, and show a few trick shots.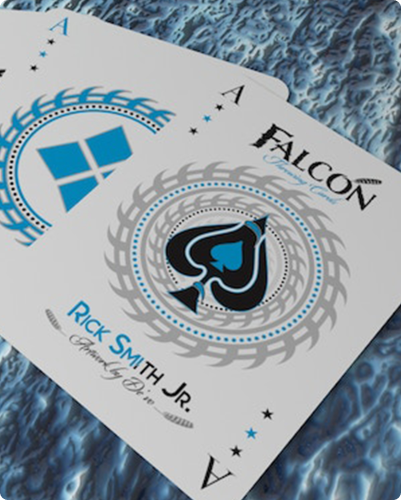 Cutting-Edge Card Throwing – Without The Sharp Edges
These high performance cards are designed specifically for long-distance throws, and allow for the speed necessary to impress any crowd.
AS SEEN ON










FREQUENCY ASKED QUESTIONS
What are these cards good for?

The Falcon Cards are good for card throwing, magic, cardistry, gambling, poker and card games.
Are these cards sharp at all?

The Falcon Cards are not sharp at all.
How many cards are in the pack?

The Falcon Card deck includes 54 total cards.
Can you use them as playing cards?

Yes, you can use the Falcon Cards as playing cards.
Do these cards whistle when you throw them?

Yes, the Falcon Cards do whistle when you throw them.
What are the dimensions of this product?
What materials are these cards made out of?

The Falcon Cards are made out of paper material.
Are these cards good for beginners

Yes, the Falcon Cards are great for beginners.