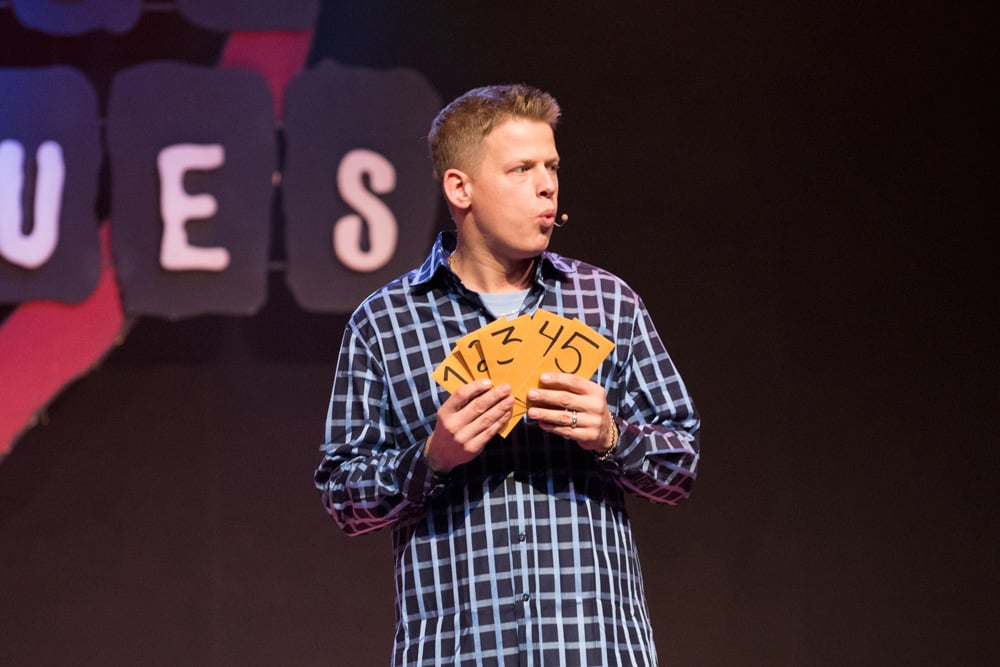 Having performed over 700 shows in 2022, I consider myself one of the hardest working entertainers in the business. I rarely say no to a client soliciting my services as they are the very reason I exist and each one has contributed to my success along the way.
My greatest compliment is a referral by someone who has seen me perform; I am absolutely thrilled any time someone asks if I am Rick Smith Jr., the magician, or says that I performed at their event or they saw me on television.
People energize me. I always give my very best in each and every performance! I am grateful that my magic brings smiles, laughter and utter amazement to my audiences. I get to know so many wonderful people as a professional magician.
— Rick Smith Jr.
The Early Years
At age 7, Rick started his career in magic by spending hours researching and developing a portfolio of illusions while other kids were playing little league and pop warner football. He tried and tested his early magic chops on friends and family, building his sleight of hand skills with every performance.
While in his teens, he stepped up his entrepreneurial side, promoting himself and his magic with flyers, business cards, and other collateral. He started being booked regularly for children's birthday parties and family gatherings while still in high school.
The Unexpected Birth of a World Record Card Thrower
After high school, Rick attended Cleveland State University to study marketing. Also an athlete, Rick played for the CSU Baseball Team where he pitched a 90-mile-per-hour fastball. One pivotal day, while kidding with fellow teammates in the locker room, Rick had been involved in a sock fight. Lacking a sock to throw, he pulled out a card from a deck that he always kept in his locker, and threw a card across the room with such speed and precision that he cut his teammate's arm.
Stunned, his teammates asked him how he was able to do that – having never done that before, Rick amazed himself as well. After graduating from CSU with a degree in marketing, he refined his new-found card throwing skill and in 2002, he threw a playing card 216 feet 4 inches, landing him international recognition and an entry in the Guinness Book of World Records.
Since then, he has been performing acts that include "doing things that no one has ever seen before", such as his signature card-throwing feat. Shows include a myriad of different magical acts including micro magic, close up interactive magic, comedy-filled magic shows, and big Las Vegas style stage shows that include grand illusions and specialty acts.
Corporate Magic Performances
Armed with a marketing degree, Rick was able to infuse brand messaging and marketing into performances for his corporate clients. When meeting with a corporate client, Rick learns what the venue's goals are; typically they are to reinforce corporate messaging or corporate positioning that is part of an overall adoption strategy. Rick then comprises magical acts that play to the audience and employees' internal culture with feats that include product transformations and illusions.
When Hyland Software asked for a more digital message in the performance, Rick took a huge paper-filled filing cabinet which disappeared, replaced by CDs, representing the transformation from paper to digital media. Additional illusions included including corporate employees, including conjuring a new CEO in a box, instantly replacing the outgoing CEO in the same box. To help reinforce key messaging of nationwide Real Estate Howard Hanna, he helped drive home a marketing message of the firm: "The Magic of Howard Hanna and wowed the real estate agency's guests with his integrated feats of magic.
Based in Cleveland, Ohio, Rick travels nationally performing more than 600 shows every year including award ceremonies, fund-raisers, sales meetings, corporate events, new product introductions, motivational and training seminars and humanitarian missions to third-world countries.
For the past 20 years, Rick has been amazing audiences with trademark card throwing, close up magic, sleight of hand, and stage shows with unbelievable feats of mentalism. Grand Illusions include appearances, disappearances, levitations, cutting his assistants in half and Harry Houdini's famous metamorphosis.
Rick has had guest appearances on national television including "ABC's Shark Tank", "America's Got Talent", "The Ellen DeGeneres Show", "Ripley's Believe it or Not!", "The Tonight Show" with Jimmy Fallon, and many more.