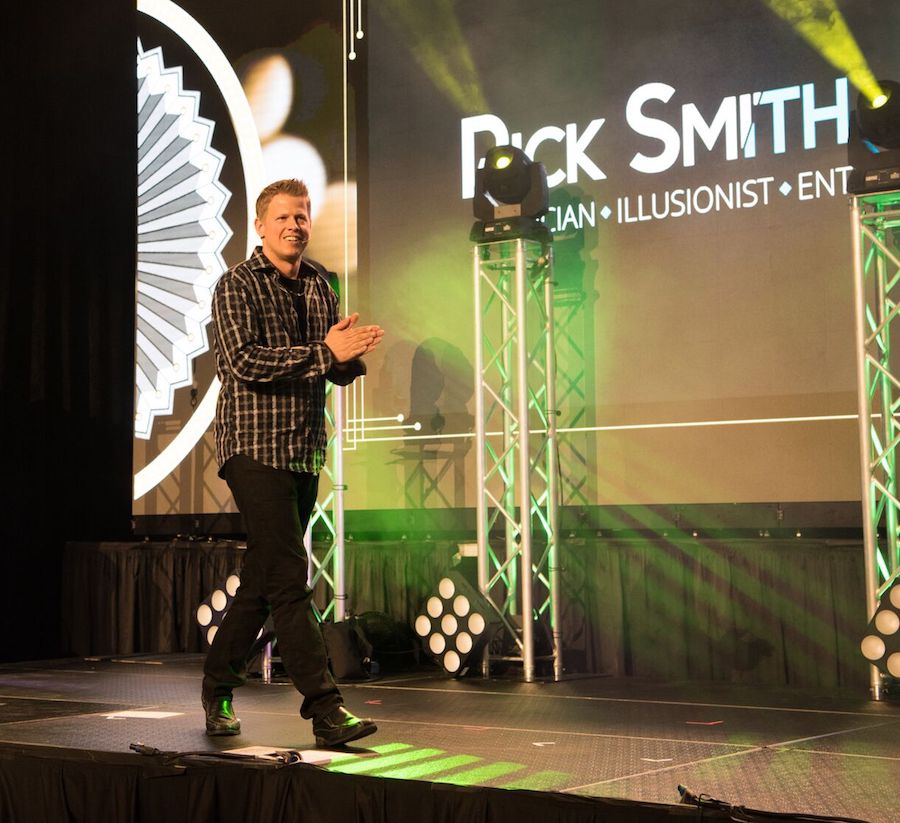 BOOK RICK
Phenomenal, amazing, surprising, astounding are only a few ways to describe Rick Smith Jr.'s illusions and magic. You have to see it to believe it.
– Coca-Cola Enterprises, Inc.
I've used Rick Smith for a couple of our corporate events. From one-on-one interaction to larger corporate audiences, Rick does a great job as an entertainer. His card throwing ability is nothing short of spectacular and his card tricks are simply amazing. He is very personable and goes the extra mile to ensure everyone is engaged in his performance.
Jim Morrison
Director of Communications Services, American Greetings Corp
Magic was Outstanding, Outstanding, Outstanding, what more can I say!
Stan-The-Man Musial
MLB Hall of Famer
ick is a detailed oriented performer who ensures everyone no matter what the age enjoys his shows and knowledge as a magician. He seems to know how to draw even the toughest crowd into his web of illusions and tricks and always generates lots of laughs and finishes up with people wanting more. Rick's entertainment company is the only one that year after year the PRE Employees ask to have back as his show is every-changing and his performance is always spot on track.
Debra Gravley
Facility Process Consultant at Progressive Insurance
"Rick did a fantastic job at our trade show using his magical talents and friendly personality to communicate our theme to our customers. In fact, he did such a phenomenal job at the first event we used Rick's skills for a second meeting. If you want immediate and lasting results… use Rick!"
Tom Krechie VP
Famous Supply
I've had the pleasure of experiencing the amazing Rick Smith Jr. I hired Rick to perform at an event for a non-profit organization I manage and was overwhelmed by the level of entertainment that my guests received. He was very engaging with all the attendees and definitely made a point of making everyone feel that they were part of the show. Rick tailored the event to my needs and worked with me on pricing. He was extremely professional and courteous. I would recommend Rick for any event large or small.
Angela Rich
Ohio Association of Metal Finishers
The best magician around!
Sean Casey
 Former Red Sox first baseman and current MLB Network analyst 
Rick Smith, Jr. was the best entertainment for a corporate function in our company history! The audience participation kept all of us on the edge of our seats! Non-stop laughter and amazement sum up the complexity of card tricks and illusions that we witnessed! Cards were slicing and dicing everything! Rick is a great choice for your next function and as a matter of fact, I'm hiring him again for a birthday party for my daughter!! Thanks Rick!
Jason Schoaf
Vice President, NSK Industries
I've never seen anything like it!
Kelly Packard
Actress/TV Host
I have had Rick Smith Jr. at various functions over the last ten years. He has always been extremely entertaining, and at times, magical. His sleight of hand and ability to manipulate playing cards is truly extraordinary. Without hesitation, I recommend Rick Smith Jr. to any private, corporate, or business event.
Thanks for providing us an awesome performance at Precision Environmental 25th Anniversary celebration! The people are still talking about it. Even though we told them you were coming, they had no idea from one act to the next, what they were in store for. It capped a really great night for all of us.
Also, besides the entertainment, you were great to plan with and carry out the logistics of working in a venue that was not exactly tailored to your needs.
Best wishes for your continued success,
Tony DiGeronimo
President,Precision Environmental Company
Rick Smith, Jr. – and his lovely Assistant – did a magic show for our company Christmas party in 2010. Rick performed up-close/tableside magic during our cocktail hour and then put on a spectacular 45 minute show after dinner. The magic was incredible and the unexpected comedy mixed in kept us all in tears. Rick was very professional and entertaining! Definitely money well spent!!
Tony Ciero
VP, North Shore Renovations, Inc.
For many years our team has worked hard to plan a fun filled company picnics that family members of all ages can enjoy. Last year we started working with Rick Smith Jr and Cleveland entertainers. Rick and all of his performers show up on time and provide quality entertainment for the whole family. The entertainment that Rick provides is not only enjoyed that day but is a part of many fond memories for years to com.
HR Department
Levin Furniture
We had Rick come for a family fun event we do in the summer in downtown Ashland. He was awesome at getting the kids engaged and best magician/card thrower we have ever had. Top notch performance that everyone LOVED!!!! Thanks so much.
United Way of Ashland County
Rick Smith is an excellent magician!! This was a first for our campground and our Beach Lodge was packed and people outside crammed to get a view. So many wonderful tricks, card throwing, numbers games… he interacted with kids and adults; had great background music leading up to tricks. I can't begin to tell you how many compliments and great reviews we received for having Rick at Roundup Lake Campground! We will definitely have him back. You won't be disappointed. He's very personable and professional ! Jeannie Bowman, Activities Director.
My son had blast on his birthday. Thank you Rick for making his celebration even more special.

Kids were excited to take part of the show and they had so much fun.
Rick performed for our elementary school and it was an amazing performance! The kids LOVED it! He was entertaining and engaging to both kids and adults. Tons of WOW moments, lots of laughing and the kids were jumping up and down excited! I would highly recommend booking Rick Smith Jr.! I personally can't wait to see him perform again!
Rick Smith Jr. kicked off our daughter's Bat Mitzvah party on July 2, 2022 with style! He showed up on time, began strolling close up magic and was the hit of cocktail hour! We had many guests who were fans and excited to meet this famous entertainer, and Rick made it a point to visit with each of them, making their day! He made a YouTube shorts video with younger daughter, and she is so excited to be part of his channel! Couldn't have asked for a more entertaining and charismatic hour of fun! Thanks Rick Smith Jr. and staff for making this a wonderful experience from beginning to end!
Rick performed at my library for our summer reading program. The entire audience, from small children to seniors, was completely dazzled by Rick's performance! His magic tricks and card-throwing were truly amazing, but what I enjoyed most of all was how interactive the program was! He really drew the audience in and made them part of the show. It was my favorite program of the summer! I definitely plan to ask Rick back in the future.
My little guy was awe struck when Rick Smith Jr walked into his birthday party! Rick was professional, yet easygoing. He text me on his way to make sure the surprise went off smoothly and successfully. The kids and grownups alike all thoroughly enjoyed his entertainment! He was approachable, friendly, and even threw cards with the kids after the show! Very happy we booked him and pretty sure we'll be seeing him at our friends parties in the future!
Rick is amazing!! Not only is he an awesome, incredibly talented magician, but he knows how to deal with all types of audiences. He kept my 6-year-old son and all of his friends so engaged for 45 full minutes! They absolutely loved him. (And so did the grownups!) Thank you Rick!
At Sapphire Creek Winery we had a Summer Solstice Party and hired entertainers through Rick Smith Jr. They were so easy to work with. All of the characters, jugglers, stunt bartender, and Rick Smith Jr. were absolutely amazing! All of these really brought our theme and party to to life! We have had endless compliments since! Thank you to the entire staff for such great work!
Rick was AMAZING!! Our guests really enjoyed his magic, and I love hearing everyone asking each other how did he do that!!! He also brought a green screen for picture fun at our event! Rick was great to work with & we would highly recommend him for your next event!!
Rick Smith Jr is a fantastic addition to any party! He finds a way to entertain while not taking over the entire room. Very personal and personable. Our guests were beyond wowed by his talent! He never disappoints! Kathryn Meals
Rick Smith Jr. is the best in the biz.
He performed at our son's 8th birthday party in our backyard.
He was professional, entertaining, exciting, and inclusive of all of the children.
He awed us with his magic, cracked us up with his humor, and was an all-around class act.
I hired Rick for my son's graduation party. He walked around and did magic at the tables and then put on a show. I had kids and adults who raved about his performance and couldn't stop talking about the fun they had. He truly involved everyone at the party.
I just saw Rick Smith Jr at a small party. He is extremely talented, charismatic, and engaging. He was super entertaining and caught everyone's attention - even the skeptics! Rick was a great addition to the evening and added a fun flare to the intimate celebration!
Rick Smith Jr. is a world class entertainer. His show is both demonstrative and interactive. His show includes card throwing demonstrations as well as card magic. He provides wholesome, family entertainment that is not the "same old thing". Children and adults are invited to the stage to participate. He takes time to greet audience members after the show and sign autographs. Some merchandise is available for sale. His show was well worth the trip. Hopefully He will be back.
I recently had a client want to book Rick to do close-up "walking" magic during cocktail hour for her wedding. It was so fun for all of her guests and the booking process was seamless! I would definitely recommend Rick to amp up any event for your guests!!
Our group truly enjoyed and was amazed at the performance of Rick Smith Jr. His light-hearted comical interaction and audience participation held everyone's attention. I have received nothing but positive remarks about his performance; he was one of the best entertainers we have ever booked.
Rick Smith Jr performed at our company holiday party, and he was an absolute hit! I am still scratching my head as to how he pulled some of his tricks off. He is a great entertainer and very personable too. I had the opportunity to chat with him a bit before and after the show and loved hearing about his career. I recommend him to anyone looking for some great entertainment!
Each May Saint Pascal Baylon has a full blown 4-day Spring Fling Festival. Due to the lingering effects of the pandemic, we were not able to hold a normal festival. We still wanted to do a community building event on Sunday, May 23rd as part the 50th anniversary celebration of the current church building. We contacted Rick Smith in April as to his availability and were fortunate enough to find his calendar free. Our audience ran the gamut from toddlers to octogenarians. As I looked around at the audience, everyone both young and old were fully engaged in his performance. I got nothing but rave reviews of his show. An attendee that I ran into the following day said he spent part of that evening trying to figure out how a certain illusion was performed. The 45-minute show flew by quickly. With Rick's popularity both locally and nationally, it is nice to know that he still has time to perform locally. In closing, we highly recommend Rick Smith Jr. for any type of special event.
Rick Smith Junior IS THE MAN!!! The kids idolize him and my son wants to be like him when he grows up! He was so professional and also hilariously entertaining! Highly recommend!!!
My son had seen Rick twice and has since been VERY into card-throwing and very much a fan of Rick Smith Jr. I was excited that he could perform at my son's 8th birthday party and he was fantastic. We were able not only surprise my son - but also surprise over 20 other kids that were at this party! Rick's show was hilarious and his magic leaves everyone wondering HOW he does it! After the show he even challenged the kids to a card-throwing contest (my son came in 2nd to guess who ;) and signed a bunch of decks of cards we had purchased beforehand. He's both very professional and down-to-earth. Can't say enough about how great this party was thanks to RSJr!
I hired Rick for my sons 6th birthday after seeing him perform two other times. Not only is he good at what he does but he's funny and super entertaining. RSJ does not disappoint!!
Wow, Rick did a great of entertaining the adults and kids alike at our son's birthday party. From card throwing to magic tricks, we will be talking about this for a long time! Thank you, Rick!
Rick Smith's performance was spectacular! He is a tremendous magician, and definitely WOW'ed our entire school - teachers and students. We will absolutely be inviting him back!