Regular price
Sale price
$17.95
Unit price
per
Sale
Sold out
Read Description

Banshee Advanced Throwing Cards by Murphy's Magic 

Are you a card thrower? Want to improve dramatically? Want to become a card thrower? 

Banshees Advanced makes throwing a standard playing card obsolete.

Banshees Advanced retains its sleek, low-profile aerodynamic shape, even under the harshest of conditions. It does not bends nor buckles, so you retain maximum precision and piercing power after heavy usage.

Important Info:


Please be aware that the Banshees, compared to paper cards, are FAR more durable. They can withstand 5X the damage that a paper card can, however they are NOT indestructible. 

Any high-impact or shock, can potentially cause the cards to crack or chip. Consumers should get a card throwing target to absorb the impact if they intend on throwing them very hard.













- Measuring system for card throwers




- Heavy Plastic Stock 8oz

- 52 cards included




- Standard Poker Size Throwing Cards




- Perfect for all ages

- Red/Orange attributes - White measuring system

- Made by Murphy's Magic

If you master card throwing with the Banshees Advanced

,

 

it is possible to achieve consistent and effortless card flight that produces a louder sonic scream like never before.








As your Banshees Advanced slices through air, the newly designed card produces waves of sound stronger than ever before.








To the layman, the sonic whistle gives the illusion of added intensity and velocity. To the experienced card thrower, it's just straight up cool. 

















Maximum Speed. Maximum Precision. Maximum Impact.

It's the cutting-edge of card throwing.








Let your cards take flight like never before with Banshees Advanced.





 


Shipping Notice

We will be fulfilling all orders out of Cleveland, OH via various shipping couriers with tracking.

Please contact us with any questions at rsj@ricksmithjr.com
View full details
WHAT YOU CAN DO WITH THE BANSHEES ADVANCED
Combine with Velocity: High-Caliber Card Throwing System
The next evolution of the ultimate throwing card is here - introducing Banshees Advanced! This incredible deck has been re-engineered from the ground up for maximum speed, durability, precision, and impact. The Banshees Advanced not only achieves consistent and effortless card flight, it also produces a louder sonic scream like never before.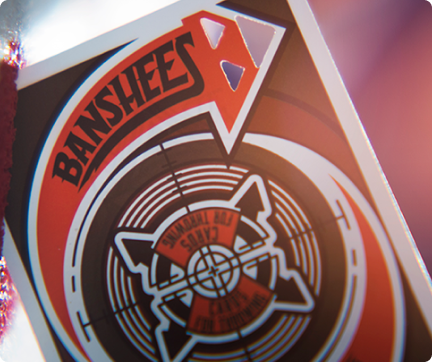 As your Banshees Advanced slices through air, the newly designed card produces waves of sound stronger than ever before. To the layman, the sonic whistle gives the illusion of added intensity and velocity. To the experienced card thrower, it's just straight up cool.

Maximum Speed. Maximum Precision. Maximum Impact. It's the cutting-edge of card throwing. Let your cards take flight like never before with Banshees Advanced.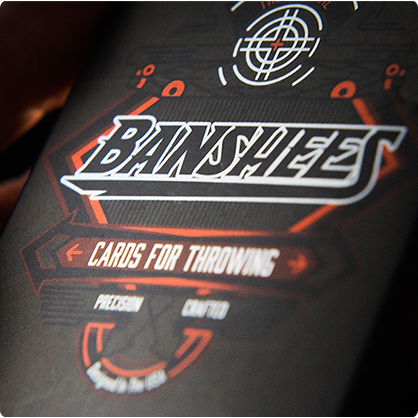 AS SEEN ON










FREQUENCY ASKED QUESTIONS
What are these cards good for?

The Banshee Cards are good for throwing, target practice and whistling.
Are these cards sharp at all?

The Banshee Cards are not sharp at all.
How many cards are in the pack?

The Banshee Card deck includes 52 total cards.
Can you use them as playing cards?

You cannot use the Banshee Cards as playing cards. They are specifically used for card tricks.
Do these cards whistle when you throw them?

Yes, the Banshee Cards do whistle when you throw them.
What are the dimensions of this product?
What materials are these cards made out of?

The Banshee Cards are made out of plastic material.
Are these cards good for beginners?

Yes, the Banshee Cards are great for beginners.
Really Perfect
I start to throw cards but I like Banshees Advanced.. I have a preference for the Falcon but banshees are really good!!! Sorry for my English
Great Cards !
Lots of fun throwing these cards. The whistling is really cool ! Great product !